May 9 through 15 marks the 21st annual National Women's Health Week. Kicking off on Mother's Day, this week is meant to bring awareness to health issues that uniquely affect women, like pregnancy and menopause, as well as health conditions that disproportionately impact women.
This week of awareness falls right in the middle of National Physical Fitness and Sports Month, a President's Council-sponsored event encouraging Americans to #MoveinMay.
Keeping in mind the physical challenges facing women in their 40s and up, it can sometimes feel intimidating to keep moving forward with a healthy lifestyle. That said, women have been known to be fierce and resilient in the face of challenges. Here are a few tips to keep you moving, even after 40.
Find Your Center
Touted for its ability to calm the body down in times of stress, studies show that yoga can also help those battling anxiety and depression. Beyond helping the brain, yoga can help strengthen bones, too. A study from Columbia University showed that those who were diagnosed with osteoporosis but practiced yoga regularly were less likely to suffer from fractures and other bone problems. One of the best things about yoga is that it can be practiced just about anywhere, with little equipment beyond a yoga mat. For this reason, it's an easy regimen to add to your daily or weekly wellness routine.
I personally LOVE yoga and in 2019 I became a 500-hour certified yoga teacher! I practice yoga almost daily and I am happy Core Power Yoga stayed open throughout the pandemic with outdoor classes. Starting April, we are back indoors with heated rooms. Yoga, workout, and a detox!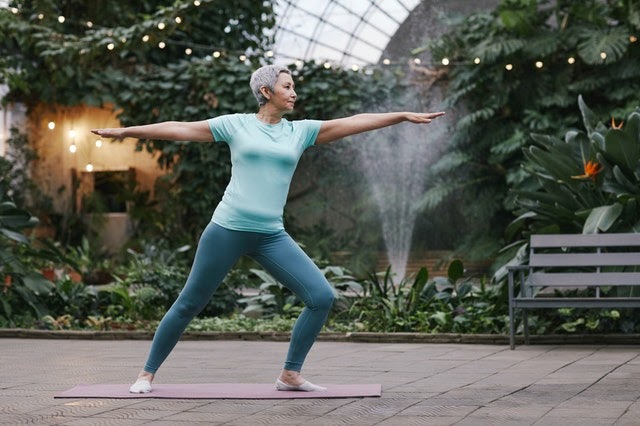 Strengthen Your Core
Maybe you've been known to do ab exercises around swimsuit season, but did you know that core strengthening exercises could also help prevent back pain? A study out of the Journal of Back and Musculoskeletal Rehabilitation found that chronic low-back patients felt considerably better after adding some core work to their workout routine after just six weeks. If you are looking for easy ways to incorporate core work, try a plank break! Holding a plank for 90 seconds, three times a week is a quick way to do wonders for your back.
Keep Up the Cardio
Cardio has sometimes been compared to the closest thing we have to a miracle drug for the brain and the body. It keeps the heart healthy and lowers the risk of heart attacks. Beyond that, it releases a flood of healthy endorphins that can improve your mood. The latest studies even show its potential to lower the risk of dementia. There are a variety of safe cardio exercises that you can do just about anywhere, from walking or jogging to biking or swimming.
Train for Strength
If cardio isn't your cup of tea, don't fret. A study out of Harvard showed that those who completed at least an hour a week of weight training were 40-70% less likely to have a heart attack or stroke than those who did not exercise. There are easy ways to incorporate strength training into your everyday routine. While not everyone has access to a gym, hand weights are inexpensive to purchase. Consider lifting weights while you watch TV! Or walk with some 3 lbs hand weights for 30 minutes, while stopping every 5 min for 60-90 secs to do reps of biceps or triceps curls. Do some lunges or squats with weights – no need for fancy trainers – use google for the name of the activity and click images or videos and make your own program!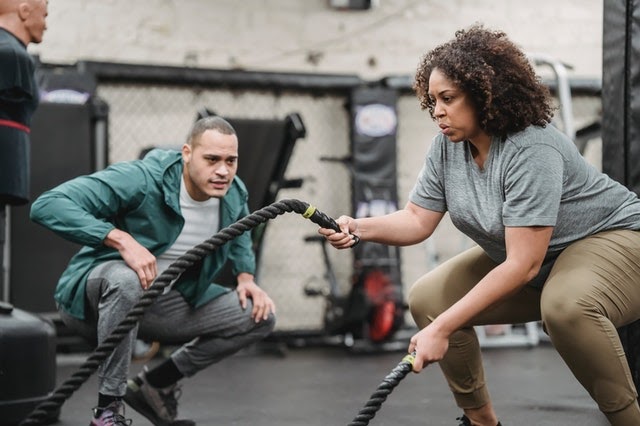 High-Impact = Huge Impact on Your Health
There is a misconception that older women should avoid high-impact exercise. Unless a doctor has specifically told you to do so, that is not the case! High-impact exercises can help strengthen bones so you can avoid osteoporosis. There are a variety of fun, accessible high-impact activities to choose from. Consider tennis, dancing, jogging, or jumping rope! Trampoline classes are low impact but can help improve bone density in menopausal women.
#MoveinMay
No matter how you choose to get moving in May, remember that you are resilient and strong. Your body can do amazing things, and just a little bit of extra care and exercise can go a long way. Moving can be very meditative and help clear your mind and pull you away from stressful worries and give your mind a much-needed rest. Whatever activity you decide you want to do, please put your cell phone away and focus on your body. Stay safe and avoid getting injured – know your limits and respect them.
With proper exercise should also come proper nutrition. Make sure you're eating a well-balanced diet that is filled with vegetables, fruits, protein but low on sugar, saturated fats, and refined carbs. If you are looking to accompany your exercise with a detox program or nutritional supplements, HERA Healthcare in Thousand Oaks has a variety to choose from or you can buy online now.
Share