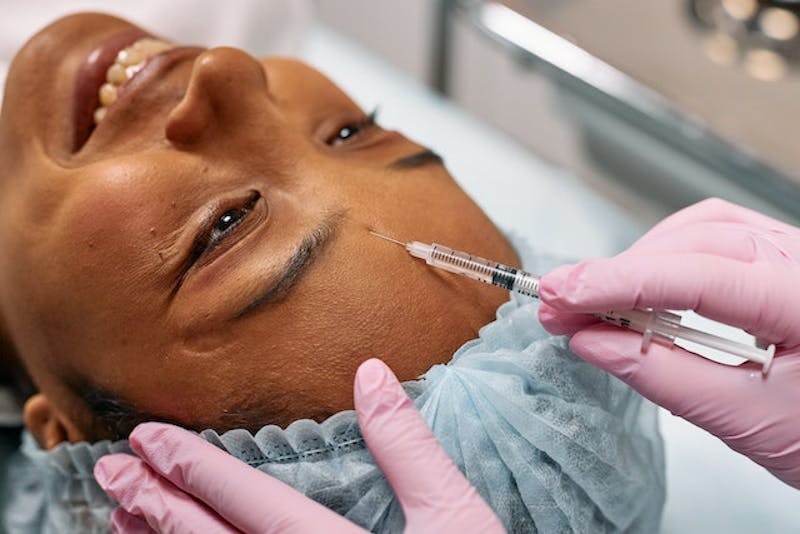 The most common nonsurgical aesthetic procedures in the United States are neurotoxin injections. Clinicians have used neurotoxins for years, all over the world, and the Food and Drug Administration has recently approved some new brands for use in the USA.
Different neurotoxins' formulations are unique and not interchangeable, so a clear understanding of their differences is essential to anyone seeking the procedure. The following are brief descriptions of the most popular neurotoxins used by aesthetic procedure clinics.
Botox
Botox is the most widely recognized neurotoxin used for aesthetics. Using botox injections in the facial area temporarily lessens the depth of facial lines that develop as we age. But the use of botox has broadened to other areas of medicine.
Additional uses of botox include facial shaping, headache treatments, muscle stiffness (in adults and children), overactive bladders, severe sweating, muscle spasms, and neck pain.
Only about 2% of the population is not affected by Botox, meaning that it will not work for a very small subset of people.
Juveau
Juveau is a formulation of neurotoxin that the FDA has more recently approved. Its primary use is temporarily calming facial lines between the eyebrows that may develop.
The purpose of a Juveau injection is to relax the muscles between the eyebrows, where deep lines from worry or frowning may appear. This process can lessen the appearance of these facial lines. Juveau is used in other facial areas too, but it is not FDA approved to do so, and it is considered to be "off label".
There is not as much data available about Juveau because it has not been studied as long as Botox, and because it was sued by Botox for their competing campaign as "New Tox" and for creating a more affordable market. The result of the suit caused Juveau to increase prices so that it did not undercut the market. Although it is not just as pricey as Botox, some practitioners still prefer it because they say it works for a few weeks longer than Botox does for their patients.
Xeomin
Xeomin is also used to reduce frown lines between the eyebrows temporarily. This neurotoxin is also FDA-approved and advertises that it has a unique manufacturing process called XTRACT Technology that uses a different filtration process to remove unnecessary proteins in the formula.
No studies have documented the effects of unnecessary proteins in the body, but some practitioners may prefer the manufacturing process. For patients who feel that Botox does not work for them, it is a preferred option. It also is easier to store because it does not require refrigeration before or after opening the bottle.
Dysport
Dysport is a neurotoxin that also reduces facial lines between the eyebrows. The treatment description is for one injection at 5 points between and above the eyebrows to reduce specific muscle activity responsible for the facial lines.
Dysport manufacturers state that this neurotoxin has 25 years of clinical use, and 69 other countries have approved the injections. One of the warnings is to avoid Dysport if there is an allergy to cow's milk protein. This option may also work for people who feel Botox doesn't work for them.
There are also warnings to avoid the treatment if the patient has had facial surgery, weak facial muscles, deep facial scars, or thick and oily skin.
Daxxify
Since the FDA recently approved the use of Daxxify in September 2022, much of the available information is vague. According to the clinical testing data, this neurotoxin is a longer-acting treatment. The trial conclusions were that Daxxify demonstrated a safe, effective treatment that lasted six months to a year for some patients who tolerated the treatments well. This option is not yet widely available but should be more available over the next several years.
Remember, although neurotoxins can improve your appearance, it does nothing to actually improve collagen production, so skincare and skin treatments such as fillers and lasers are still necessary for optimal results – especially as you age. All of the neurotoxins disclose that there can be severe side effects if the toxin spreads to areas of the body away from the injection site. There can also be allergic reactions and other side effects from the injections.
If you choose to have a neurotoxin treatment, discuss all your options with your provider. Don't be shy about asking your injector about their experience and who will be administering the injections.
Lifestyle habits can speed up facial aging, but some circumstances can cause premature aging, such as genetics and skin type. These events can affect what kind of treatment you choose to have so that you can enjoy the beautiful, smooth, flawless skin that every person desires.
Botox and Neurotoxins for Aesthetics in Westlake Village of Thousand Oaks
At HERA Healthcare, we offer a variety of neurotoxins to help you with your aesthetic needs and problem areas. Whether you're looking to reduce your crow's feet, forehead lines, frown lines or bunny lines, we can help you find the treatment that fits your issues.
BOTOX Membership $99 / month
Get rid of creeping wrinkles and make sure they stay gone with our Botox Membership! Whether you're a Tox veteran or new to the injectable scene, this membership gives you access to members-only pricing on wrinkle-erasing neurotoxin, and well as discounts on additional treatments and products. 6 month commitment required.
Membership Benefits
Any additional units for $11/unit
10% Off Medical Grade Skincare
10% Off Microneedling with PRP
Can use Alle points for additional savings
Treatments
What's Included:
30 Units of Botox Every 3 Months
Share