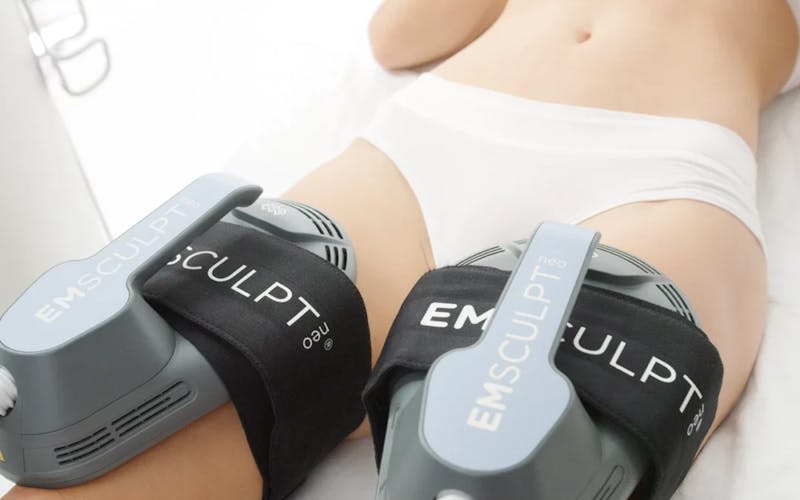 It is safe to say we have come a long way in regards to available body contouring technologies.
The newest and most recent technology to emerge is Emsculpt NEO – a non-invasive, FDA-cleared, gold-standard treatment for safe body contouring. It emits a synchronized RF (radiofrequency) and HIFEM (high-intensity focused electromagnetic technology) energy to melt fat, tone, and build muscle. This new technology can not only improve how clothes fit, how you look and feel, it can also help improve your posture, physical function, and athleticism.
During four to eight comfortable weekly treatments that last 30 minutes, one to two applicators are held in place while RF energy causes gentle to strong heating to the muscle. This mimics heat that is generated during warm-up exercise that better prepares muscles for stress caused by exercise. After about four minutes of gradual heating, the temperature in subcutaneous fat is enough to cause fat cell death. Fragmented fat cells are permanently removed from the body through the lymphatic system. Once these fat cells are destroyed, they will never return again! Studies show that about 30% of fat cells can be affected in this way, which means that you stand to lose about ⅓ of the fat that is treated in any given area over a series of four to eight sessions. The number of fat-burning treatments needed is generally gauged by the thickness of the fat that you can pinch in the area. In some cases, patients may not want to lose fat cells, and that is why the fat-burning feature can be turned off! The treatment is completely customizable.
Emsculpt NEO also treats muscular areas in order to counteract weakness and/or to build more protuberant shapely muscles. The treatment is achieved with adjustable magnetic pulses that create thousands (20,000 per treatment) of involuntary supramaximal muscle contractions. These contractions dramatically improve strength and tone in your muscles. During HIFEM activity, muscle fibers are recruited and are more actively engaged than they are during a regular voluntary workout at the gym. Emsculpt NEO achieves this using the phenomenon of distraction; meaning that neurons are overloaded with different signals so that they cannot sense discomfort the way they normally would signal when muscles are overloaded. This extreme stress to the muscles results in 20% muscle volume growth. Most people report being able to maintain higher treatment levels as their muscles strengthen with each treatment.
Treatment Areas
Abdomen
Buttocks
Inner Thighs
Outer Thighs
Front Thighs
Back Thighs
Triceps
Biceps
Calves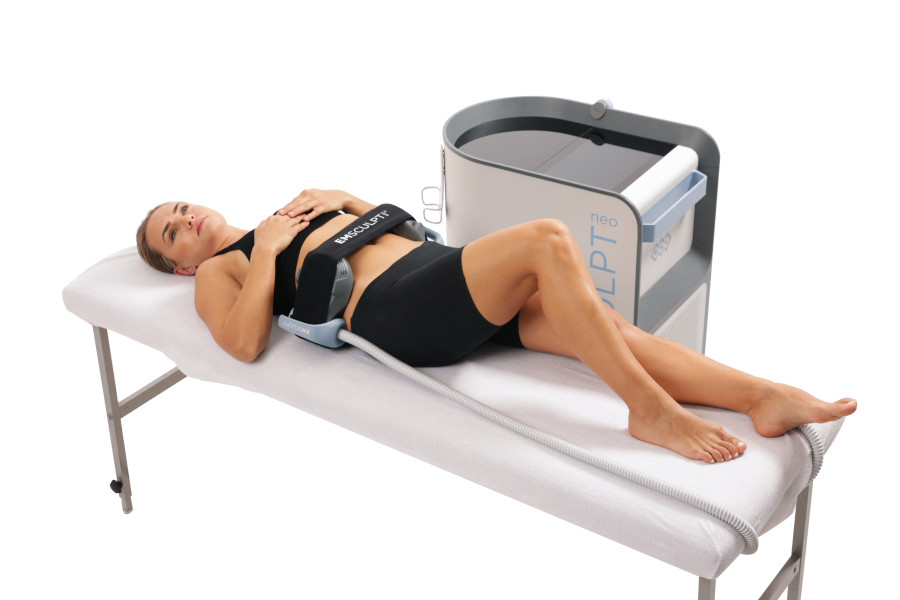 Another great benefit about Emsculpt NEO is that there are minimal to no side effects. You might feel temporary muscle soreness in the treatment area, which should be gone after a few days. However, most people experience only some skin redness and perspiration following their treatment.
Last, but not least, although the FDA has not approved the Emsculpt NEO for skin tightening, it is reported by many patients to improve skin laxity as well.
*Emsculpt NEO is not advisable for people who are pregnant, nursing or have electronic or metal implants that could react to the radiofrequency.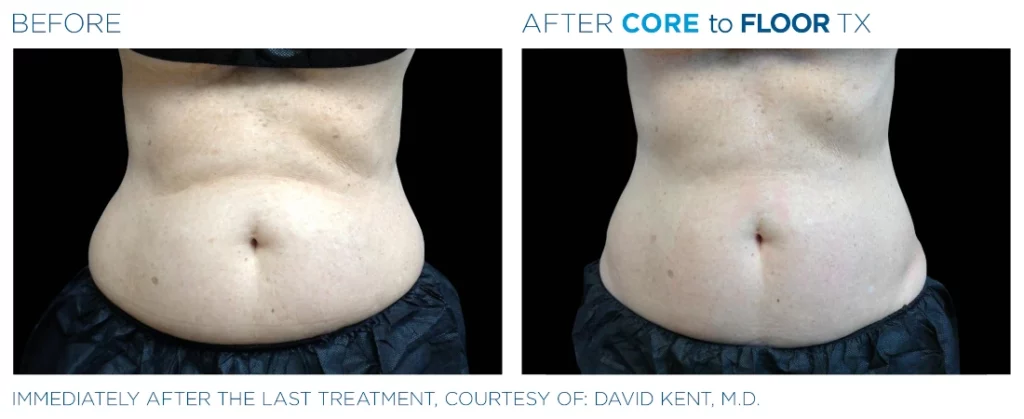 View this post on Instagram

A post shared by Mirela Cernaianu, MD Ob/Gyn & Dana Duarte, FNP (@herahealthcare)
For more information on how to book a consultation or cost please click here.
Using heat for body contouring is not new and was introduced in 2015 by Cynosure as SculpSure – warm sculpting which also decreases localized fatty areas up to 25% per treatment – multiple treatments are usually required.
Sculpsure has the capability to treat the same areas as the Emsculpt Neo plus a few more! Sculpsure by Cynosure is a warm sculpting device that uses non-invasive laser technology to reduce fat cells in localized fatty areas of the body. It does not affect fat around organs, it only treats fat under the skin. It uses heat that feathers during use so that there is no contrasting indentation from where the applicator was placed to the skin. Results are obtained over a series of three to five monthly treatments. Pain during treatment is moderate so it is necessary to practice deep breathing techniques, use nitrous oxide, or some other form of anesthesia or distraction. Warmsculpting came to market in 2015, and is currently offered at HERA Healthcare. For more information or for before and after photos please click here.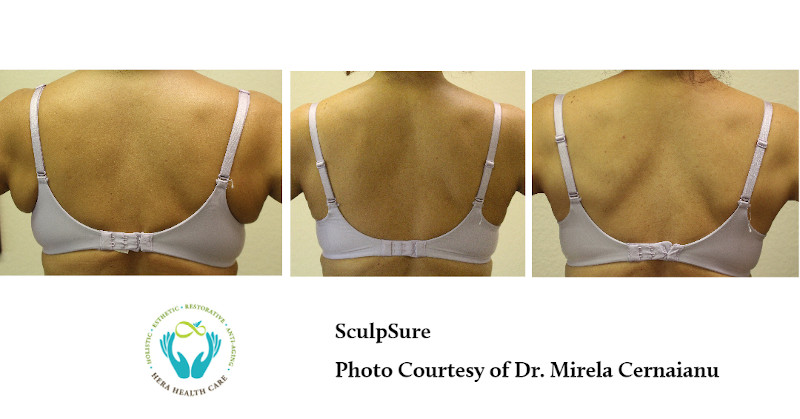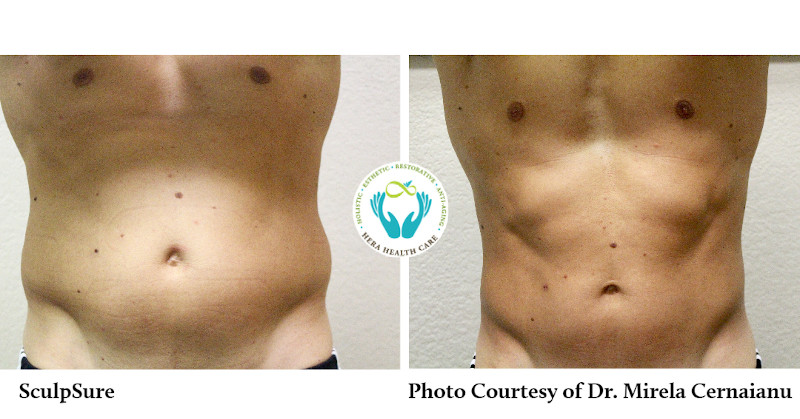 Coolsculpting is the oldest technology that entered the aesthetics market in 2010. It is currently FDA-cleared for the treatment of fat bulges in the upper arms, thighs, flanks, abdomen, bra and back fat, under the buttocks, submental (under the chin) and submandibular (under the jawline) It is also FDA-cleared to affect the appearance of lax tissue with submental area treatments. Coolsculpting is mildly painful before and after the treatment, and requires post treatment massage to better improve circulation and the clearing out dead fat cells, same as SculpSure.
CoolSculpting works by cooling fat cells to the point of cell death, thereby permanently reducing fat in the treated area. It can affect about 25% of all subcutaneous fat cells per area treated. Whereas SculpSure has cool sapphire plaques to allow heat to penetrate deep into the fat while keeping the skin cool, the freezing provided by the Coolsculpt technology does not spare the skin – nerve damage is usually temporary but long term numbness has been noted and it is a concern.
Another downside of CoolSculpting™ : freezes only the tissue that is sucked into the treatment applicator which means tissue surrounding the area is unaffected. This often leaves what people refer to as "the ridge", "sharkbite" or "stick of butter" in which the borders of the treated area are sharply defined.
Paradoxical adipose hyperplasia is a rare complication of CoolSculpting that gets its name from the unexpected, paradoxical result: overgrowth of the fatty tissue. This complication, which can appear 8 to 24 weeks post-procedure, is when the treated area becomes hardened and visibly enlarged.
For these reasons HERA Health Care decided to invest in safe cutting edge reliable and effective technologies like SculpSure and EmsculptNEO.
If you are interested in learning more, or booking a consultation for an Emsculpt Neo or Sculpsure series of treatments please call: 805-379-9110 or visit HERA Health Care located at 910 Hampshire Rd Suite A, Westlake Village CA 91361.
Share