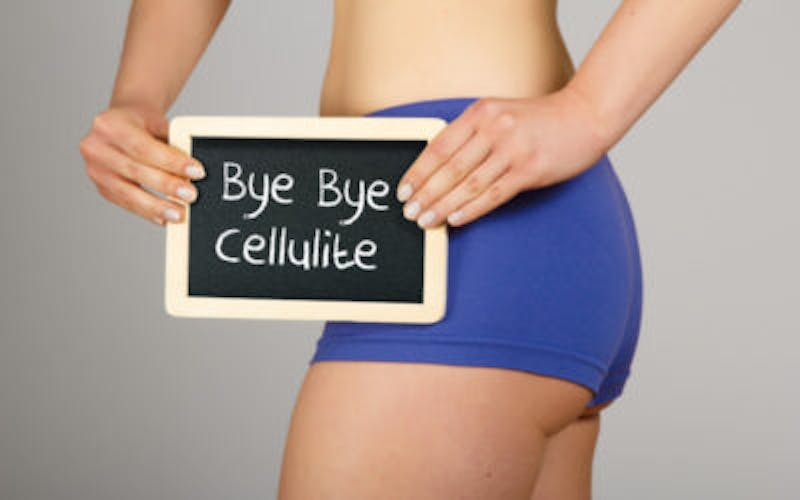 What is Cellulite? How can You Treat Cellulite?
Most women have cellulite. The pesky little skin dimples that show up and nobody wants, have cast a shadow on body image and self-esteem for decades. It can happen to any woman, as early as our 20s. One day it is not there and the next day it is. The average age for women to acquire cellulite is 21 years old. I suppose that means we are all just being normal. If you don't have a problem with the dimpled skin on your body than there's no reason to second-guess yourself or worry about doing anything.
Cellulite isn't fat, so let's just set aside that myth right now. Cellulite refers to the puckered appearance of skin when fatty tissue pushes through the fibrous bands, called septae, that connect the skin to muscle. This is often referred to as "orange peel" due to the appearance of little bumps. Some women are more predisposed to it than others. The amount of cellulite you have and how noticeable it is can be based on your genes, body fat percentage, and age. The thickness of your skin also affects the appearance of cellulite. It is evident in women more than men because women have a vertical pattern with their connective tissue and men's connective tissue is in a crisscross pattern, preventing the dimpling effect.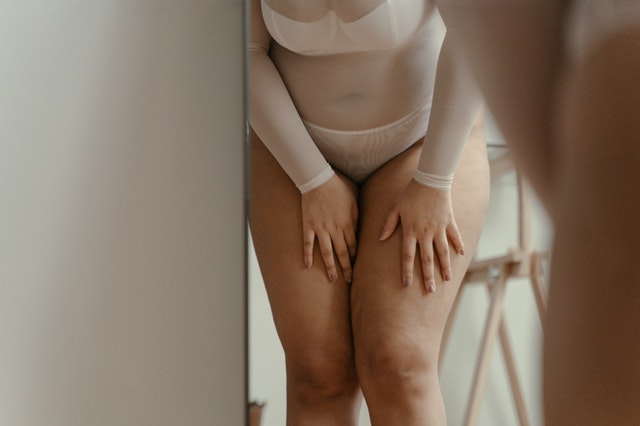 Cellulite is not a medical issue; it's purely cosmetic, affecting 80-90% of women. Having cellulite is the norm for just about every woman (and even some men). Most of us don't like it, but at least it puts us into the 'typical' category. However, being typical does not mean we are just going to accept it. Many women resent it. Many of us have questions and want answers. How it happens and how to get rid of it, is on many women's minds. Then, there was also the issue of how it makes us feel……lots to talk about!
How do women get cellulite? What are some of the factors that cause or contribute to cellulite?
Diet and hydration: Whether you're thick or thin, bad eating habits can cause and worsen cellulite. Diets high in fat or sugar or both will create more fat cells. Too much sugar also can and will expand the fat cells. Too much salt can make the appearance of cellulite worse because it causes you to retain fluids. Quick and unhealthy weight loss can make your skin looser and actually make cellulite appear, even though you've lost some of your body fat. Skin cells, like the rest of the body's cells, need water to function. Water also helps the skin maintain a plump appearance. Most healthy adult women need 2.5-3 liters of water each day, including water from foods.
Being Sedentary: Stay active and exercise regularly! Physical activity fights fat. When you are sedentary and sit for long periods of time, you lose muscle tone. You might even be at a healthy weight, but if your muscles aren't strong or dense enough, they can't hold back the fat below them, and the dimpling will start forming.
Slower Metabolism: Metabolism is directly related to your body fat. When your body doesn't burn energy as fast as it takes it in, it will lead to weight gain, then you develop a higher storage of body fat waiting to push through the connective tissue to the skin, creating the orange peel appearance we hate. Discuss this issue with your doctor and consider checking your thyroid as it is one of the most important regulators of your metabolism.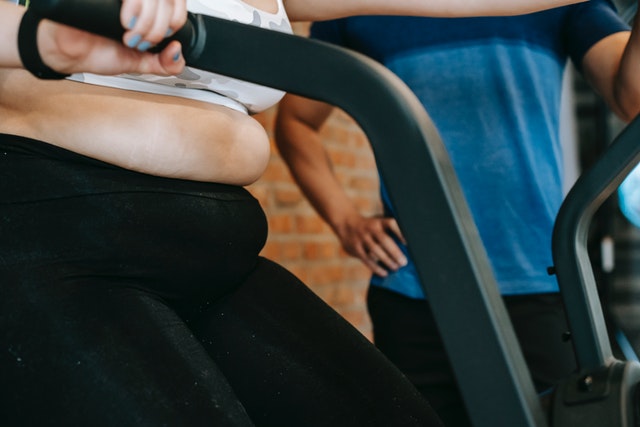 Hormone Changes and Estrogen: It is one of the most important hormones in a woman's body – You will not like living with too much or too little of it. You also can't live normally without it, as major changes happen with aging after menopause when your estrogen is gone. Without estrogen, your collagen production will decrease. Collagen actually helps keep cellulite in check by building strong, healthy skin and forming the connective tissue beneath the surface. Talk to your doctor about maintaining healthy estrogen levels and whether there are solutions to help eliminate excess estrogen as well as replace estrogen safely after menopause. HERA Health Care can help restore your body's hormonal balance – we will seek natural and holistic solutions to support healthy sex hormone levels or replace loss of estrogen safely.
Skin Health: A thick layer of skin can reduce the underlying appearance of cellulite. Loss of collagen with aging or swings in hormone levels make our skin become less elastic over time, mostly due to the lower hormone levels, and causes cellulite to appear as we get older.
What could be done to treat cellulite? How can we at least diminish cellulite and keep it under control?
Exercise. Many fitness gurus or programs claim that firming and toning muscles and tightening up your skin will help to reduce the appearance of cellulite. And that can be true, but it will not work for everyone! One of the biggest misconceptions about cellulite is that it only affects women who are overweight or don't take care of themselves. Many women think they can exercise cellulite away, or if they lose weight it will improve, but that is not always true.
Lotions or creams. If only there were a magic lotion or cream you could apply and your orange peel skin would miraculously disappear. Truth is, there is no such thing! Some products containing ingredients like caffeine and retinol, for instance, may improve the appearance of skin. Caffeine is believed to help break down fat, while retinol thickens the top layer of skin. But such formulations are rarely effective on cellulite, the treatment of which requires extensive fat, collagen, and connective tissue remodeling. Lotions and creams might help a little – they can make it look a little bit better, but don't expect there is a cream out there that is going to take away your cellulite!
Massage. Manual lymph drainage massage is considered to be a beneficial treatment for cellulite. A cellulite massage works to reduce it by rolling and suctioning different parts of the body to restore circulation and the flow of nutrients to problem areas, as well as help break down the bands that give the skin it's dimpled appearance. It is recommended you consider lymphatic massage 3 times a week for 3-4 weeks, then 2 times week until you start seeing strong improvement, then once a week, and then monthly for maintenance. Does it sound like it will take a lot of work and time? It is true and might help but not drastically.
Home Use Devices. There are so many devices out there it will be hard to pick a good one. Do your research and due diligence and pick one that appeals to your wallet and your common sense. Too often we make purchases that sit on our shelfs or hide in drawers, so make sure to actually use it as recommended once you have committed to it. You may check out some of the many products on the market here.
HERA Health Care recommends the Galvanic Body Spa kit from NuSkin. This device has a smart and ingenious design, with ergonomic ease of use, delivering a powerful effect due to proprietary ingredients contained in the body gel. What is unique and why this device?
Newly developed patent-pending pulsating technology. The body spa is optimized to maximize anti-aging effects on the arms, abdomen, buttocks, and thighs. The skin on the body is thicker and less sensitive, making it benefit from and respond to pulsating technology. It also helps stimulate, purify, and refresh your skin to reduce the visible signs of aging, for a more contoured, smoother, firmer, youthful look today and in the future
A grooved conductive surface. What is the benefit? The patent-pending grooved conductive surface of this device captures more key ingredients in the critical area between the conductive surface and the skin.
Essential Key ingredients designed to help smooth the appearance of skin and improve firmness, include:
ageLOC Proprietary Blend—targets the cause and changes produced by aging.
Hibiscus extract—rich in plant lipid extract that helps calm free radicals and reduces the appearance of cellulite.
Honey extract—a natural alpha hydroxy acid to help smooth skin.
Hyaluronic acid—helps maintain an optimal moisture level.
Dr. C loves it and she knows you'll love it to. To purchase click here.
Are there QUICKER effective and real treatments for cellulite? LASER or SURGERY?
We can't stop aging. And our hormones may cause cellulite no matter what we do. We CAN live a healthy lifestyle: eat a good diet, exercise regularly, don't smoke and practice good skin care. But even if some of us are the picture of good health, our thighs may still turn into cottage cheese. If that's the case, you still have options to reduce the appearance of cellulite. The key is to attack the fibrous bands beneath the skin. Even then, no solution is permanent. Over time, women can develop new bands that become visible again. Consult with a physician who specializes in such treatments about what might work best for you. Be sure to ask about side effects, complications, recovery time, expected results, and cost. Prices can be quite steep and will vary depending on where you live, what treatment you're having, and the size of the area being treated. You'll also want to ask about the length of the procedure and the number of procedures you'll need to see improvement.
Non-invasive energy-based therapies. This category includes devices that use radiofrequency (such as TempSure FIRM, Candela's Velashape) or acoustic wave therapy (such as ZWave) to increase collagen production and thicken and tighten skin. These treatments may also decrease fatty tissue and relax the fibrous bands beneath the skin. Radiofrequency results are short-lived, and it can take 5-7 treatment sessions, on average. There are many different energy-based devices touted for the treatment of cellulite. Patients may see a temporary improvement, but unless the treatment is releasing the fibrous septae, you will not significantly see cellulite long lasting improvement. If you are determined to reduce the appearance of cellulite with a non-invasive approach, radiofrequency treatments with Tempsure Firm from Cynosure are a very safe choice. Clients that use this radiofrequency heating and specialized massage usually require 5-8 treatments and see results within a few weeks.
How does Tempsure® Firm work? It uses RF monopolar technology to generate heat around 39-44 degrees Celsius to generate new collagen production called Neocollagenesis. The revolutionary handpiece design allows for accurate real time temperature measurement, and precise heat delivery and time duration.
Benefits and features:
Super-fast, precise and even heating of the skin
Very comfortable and gentle treatment
Relaxing music to accompany the treatment
Treatments are SAFE for ANY skin type
Treatments are SAFE ALL year round
Absolutely no downtime
Fast treatment which can even be done on your lunch break
Relaxing, comfortable treatment
Check out the video to see how it works.
To find out if Tempsure® Firm is the right treatment for you, please call 805-379-9110 to schedule an expert consultation with Dr. Mirela Cernaianu in our state-of-the-art medical office, located at 910 Hampshire Rd Suite A in Westlake Village CA 91361. To shop online for a cellulite treatment package, please click here.
You may think you've tried everything to lose the cottage cheese thighs and orange-peel skin. But there's help in the fight against cellulite. Talk to your doctor about your general health and your lifestyle. They'll help you discover healthy habits and treatments you may not have considered. When you feel like you've uncovered every option, visit HERA Healthcare in Westlake Village to choose the right treatment to get rid of your pesky cellulite problems.
Share