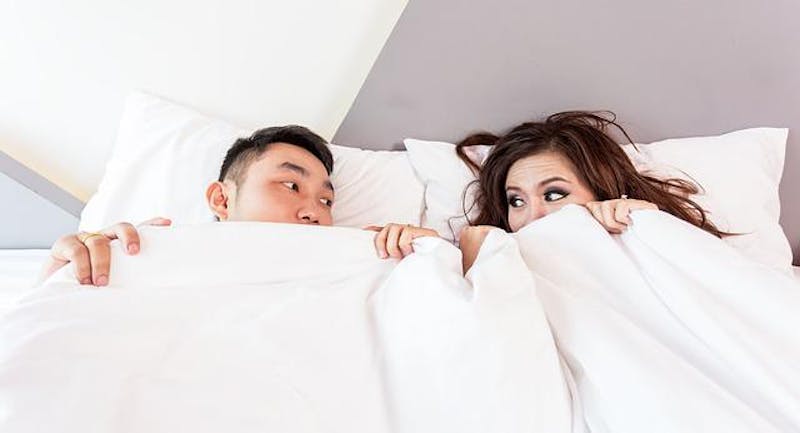 What is Erectile Dysfunction?
Erectile dysfunction is also known as "ED" or impotence. This is a common condition men suffer when they can't hold an erection or if they have noticeably less frequent or no penile hardness in the morning. 40% of men 40 years old have some level of erectile dysfunction. Chances of developing ED increase by 10% for every additional decade; so, men 50 years old have a 50% chance of having ED, men at 60 years old have a 60% chance of having ED, and so forth.
Impotence can occur due to a variety of reasons. Vascular problems such as blood pressure or heart problems, a loss of testosterone, general health issues such as depression, or medical treatment that targets prostate cancer, for example, can all cause erectile dysfunction. The mechanism of ED is that the inner tissue of the penis becomes weak and unable to fully expand with blood to cause an erection.
ED is an issue that should be diagnosed properly so that treatment can be catered to address the cause of the problem. At HERA Healthcare, we care about our patients and their sexual wellness. In order to help both men and women, we have new technology and strategies to improve sexual disorders and we cater our treatment plan to each patient's needs.
What is Erectile Dysfunction NOT?
Erectile dysfunction is NOT low libido. Low libido means that desire for sex is low. Many men crave sex but cannot perform, and that is when erectile dysfunction is diagnosed. However, if desire for sex is low, the treatment for this is often testosterone. When it comes to desire for sex, testosterone is king, and that is something that we supplement for our patients when it is appropriate. We also offer clomid therapy for men who wish to increase libido and maintain fertility. Sometimes men can suffer from both low libido and erectile dysfunction, which can be very frustrating and disheartening; the good news is that we offer treatment for both issues concurrently so that sexual health can again soar!
What are All the Treatment Options for Erectile Dysfunction Available?
Options for ED include both invasive, non-invasive treatment, treatment that works to solve the underlying problem, and treatments that are just quick fixes. There are treatments that require surgery and some that have side effects versus no side effects.
Drugs: are pills such as Viagra which temporarily cause an erection but can be difficult to reduce if the erection does not occur with good timing; there is a loss of spontaneity with their use and sometimes men will take Viagra and then not have sex – which can leave them with an unwanted erection. Drugs may also be contraindicated with other health conditions.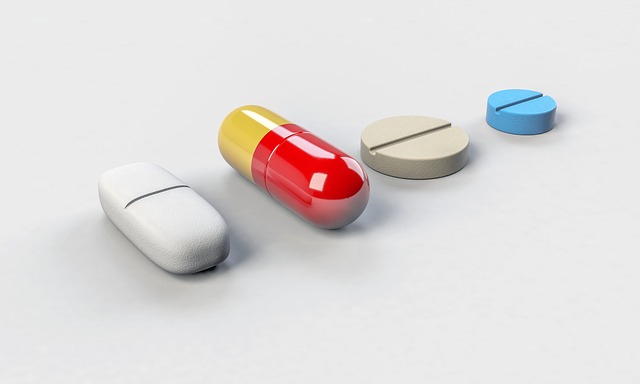 Implants are placed for patients who opt to undergo penile surgery. For this option, the patient must be a good candidate for surgery since it is necessary for the patient to be put asleep with anesthesia and to be able to tolerate recovery process.
Pumps are a quick way to address impotence but does not enable spontaneity and does not address the root of the problem.
Injections for impotence involve the Priapus Shot, which is a platelet rich plasma injection to the penis to help heal penile tissues. It is a viable treatment aimed at resolving the root problem, but it can be mildly painful.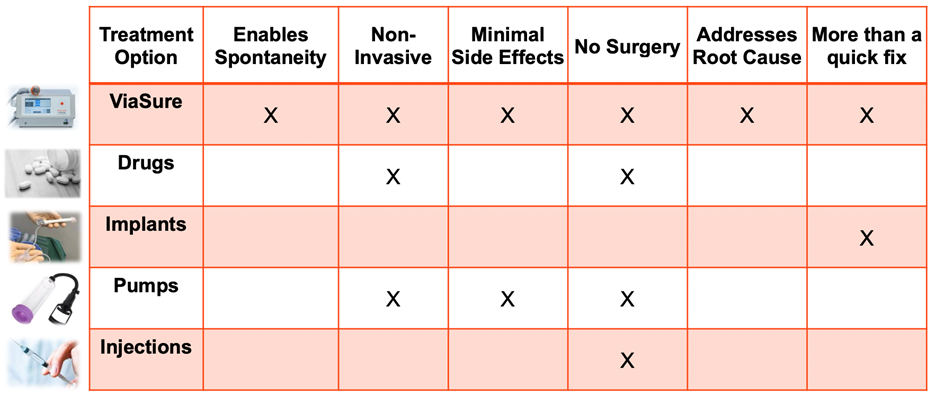 As you can see, there is only one treatment on the market that addresses impotence at the root cause, has minimal side effects, is painless, non-invasive and allows for a spontaneous sex life, and it is known as shockwave therapy. Our Viasure Shockwave therapy laser is the newest non-invasive treatment that is gaining popularity for ED. There is no downtime, no pain involved, and it works to improve sexual wellness in men over a series of treatments. Depending on the severity of the cause of impotence, patients may need one series of six treatments spaced one week apart, or more.
Shockwave therapy may also work well in conjunction with hormone replacement for men. Hormone replacement includes testosterone cream applied daily or pellets applied twice a year – both options are offered at HERA Healthcare – and can increase libido and function if that is part of the underlying problem causing impotence.
What is Shockwave Therapy?
Shockwave therapy for erectile dysfunction is a new technology that is gaining popularity worldwide. It has been around since the 1980's but was previously only used to help patients that needed kidneys stones gently removed. Over the years its use has expanded to physical therapies that are targeted to reduce muscular and tendon inflammation. Viasure shockwave therapy is the newest application to sound wave technology, we now use this innovative therapy to vibrate and heal penile tissue for sexual health.
Shockwave therapy works by using a soundwave to compress and decompress cells quickly. The treatment turns on cellular processes within the tissue that improves blood flow, creates new blood vessels, and repairs smooth muscle cells. and relieves minor aches and pain for improved performance.
Treatment is weekly for six weeks; it is painless, and can be repeated after a month "break" from treatment. Final results may vary, but, depending on the severity of impotence, one or more treatment series may be necessary to improve ED. Afterward, a maintenance treatment is recommended 1-2 times yearly.
IF ERECTILE DYSFUNCTION IS AFFECTING YOUR SEXUAL HEALTH COME SEE US AS HERA HEALTHCARE!
Share